https://rock-expert.com/website/index.php/reviews/114-album-review-steve-purcell-s-debut-release-ample-tudes
____________________________________________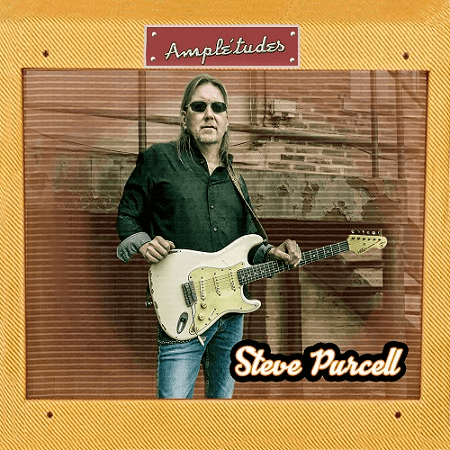 Spending most of his musical career playing with many other top musicians, notably with Ron Keel Band, Nashville based guitar maestro, Steve Purcell finally decided that its time for him to showcase his playing more with a solo album. The guitarist unleashing his debut CD entitled "Ample'tudes" which is a guitar based record that showcase Steve's fine playing along with song writing and certainly introducing plenty other top musicians who collaborate with the virtuoso in that release.
The debut album immediately take off with a high energy instrumental rock piece called 'Hammer Down' which brings out an exciting rockin' sound with strong melodic feel from start to finish, Steve's arpeggio play simply highlighted this piece. A more country-rock instrumental piece with that slight ballad touch can be heard from the next song, 'Rattlesnake Road' that also brings out that cowboy kind of atmosphere for music lover. Next song that the maestro introducing is 'Angel In Hell', another rock track with heavy country touch along with strong vocal presence that showcase more of the Nashville based musician's song writing and arrangement skill.
'Retro Radio' is a unique sort of bonus tune which functions as some sort of short break from the first three track as it's just combination of short audio clips of several songs that sounded like when were browsing between radio stations. 'Mouse in the House' is a nice instrumental piece that brings out that rock element with a bit country taste and chill kind of atmosphere with an always melodically excellent guitar playing. 'Trouble With Love' is a lovely ballad track that once again showcasing that Nashivelle rock sound being blend nicely with slight pop approach to create this nice piece of composition. 'Bit's and Pieces' offer a more of that classic big band like instrumental tune with that bit of jazzy approach creating such comforting song from start to finish.
'Messin' With the Kid' brings out that big of late 80's early 90's rock feel still with that slight Nashville touch that create such an eventful and unique musical journey. 'Skippin' Lickin' is another unique stuff from the record as its more like Steve showcasing some of his fine guitar licks which was asked by his good friend Ron Keel. 'Don't Say Goodbye' is the final track of this album and it's a pretty suitable ending with its sweet pop-rock ballad that once again brings out more of Steve's composing and arranging abilities.
Overall, music fans will enjoy this debut album because of its fun approach with combination of delightful songs, guitar playing and composition. The strong country-rock feel create that strong character for this record, but Steve is able to combine many different musical aspect into each of his track to create that nice combination. His vast experience of playing with many musicians certainly help him in adding different part of stuff into one, resulting an album with strong basic but not entirely rigid. Although country influence might not be something that suits with everyone's ear but once they are accustomed to hear the songs, they'll feel that comfort coming from songs in this album.
Full Track list for Steve Purcell's Debut Album "Ample'tudes" :
Hammer Down
Rattlesnake Road
Angel In Hell
Retro-Radio
Mouse in the House
Trouble With Love
Bit's and Pieces's
Messin' With The Kid
Skippin' Lickin' (aka: The Lick)
Don't Say Goodbye
More information about Steve Purcell's new album and projects do check it out at: